Hello Readers, Fans, Dark Fantasy Enthusiasts, and Very Brave Souls! This is the May Edition of my newsletter.
Dark Fantasy Writing got put on the back burner a little as I got the chance to explore a few different art forms and gained access to a few new publishing platforms. Do not fret though. These experiences ensure that my Dark Fantasy writing gets the chance to be refined properly as I gain valuable writing skills by writing in another voice.
Dark Fantasy is in contrast to High Fantasy, the more stereotypical flavor of this genre. In High Fantasy, Magic is a wonderful thing taught to wizards safely in schools made for this purpose.  Society may suffer conflict, but minus the drive in the story, the world tends to be a fairly stable place. In Dark Fantasy the Magic is dangerous if not worse, society is crumbling assuming its not already at a dystopian state, and there is a general sense of despair and hopelessness that fills the world showcased in the medium.
Because I continue to be asked what Dark Fantasy is exactly and as a result of me deeming the paragraph above to be a strong explanation, I have elected to continue leaving this in the newsletter.
Happening in May
The End of Utopia, Book 1 in the Search for Eden Series is nearly complete.  Edits continue on the next book in the Search for Eden Series.
I am collaborating on two different anthologies this month.  The first is titled: Thrill of the Hunt with Laura Perez as the one leading the show. The other is titled Demonic Anthology Vol 2 Demonic Household: See Owner's Manual with Valerie Willis as the original idea creator.
On May 16th I will be Mcing an Open Mic at Stardust Video and Coffee in Winter Park, Florida.  The theme of this event is "How Autism Affects Us All: The celebration of Autism through both Struggle and Victory"
I will be in Chicago, Illinois and the surrounding area from May 17th until the 23rd.  While the main reason for me taking this trip is for my younger brother's college graduation, I also will have signed copies of my novel for those who wish to buy one in that part of the world.
I will be at Megacon Orlando from May 24th through 27th as a reporter and have been given the opportunity to interview notable attendees during the entire four days of the event. Expect for my interviews to be published both on my own site, as well as at Bentobyte.co
Book Update
Currently, The End of Utopia Character Anthology is on  Amazon! If you have not gotten yourself a copy, be sure to do so!
Article Updates
Articles I have written are available on Bentobyte and The Odyssey Online
About Me And What I've Been Up To
Post Avengers Infinity War Photo at Waterford Lakes, Florida
Me Refusing to Smile Tough After a Writing Session in Avalon Park, Florida
Me Kicking off the Open Mic at Stardust Coffee in Winter Park, Florida
Artwork for my First Book Cover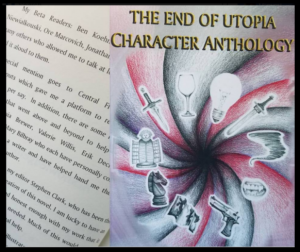 By Stephanie Nants